1.
Download Eschaton 0.8.1
- we'll be using this tool for modding.
2. Download
MDRenamer
and launch it.
3. Pick a short mod name: this is not visible to most players, and will affect how the .map file is named. I will pick fastermc for this example.
4. Pick a build number. Use 1 when first creating a mod. More on this later.
So far, this is what we have: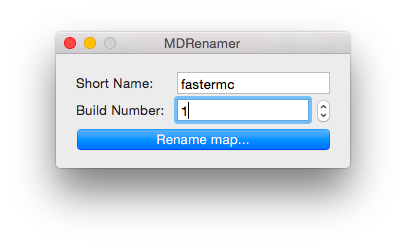 We don't actually create mods from "scratch" in Halo. We start off with a base map, and modify the map from there. Most people will start off with bloodgulch.map, so that is what we will use here in this tutorial.
5. So, hit the "Rename..." button in MDRenamer. An open file dialog should appear. Leave the dialog open for now.
6. Launch HaloMD. Go into the Mods menu up in the menubar, and select "Reveal Mods in Finder..." A finder window should pop up. Find the bloodgulch file and drag it from the finder window, and drop it into MDRenamer's open file dialog window. The bloodgulch map should now be selected in the open file dialog: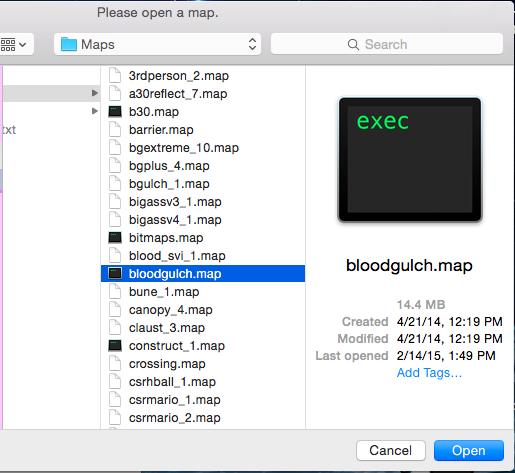 7. Hit Open. fastermc_1 will now show up in your Maps folder in Finder (this is named by the short name combined with the build number). Keep this Finder window open.
8. Open the fastermc_1 map file with Eschaton. One way is holding control and clicking fasetermc_1 map and going to "Open with..." and selecting Eschaton. Another way is dragging the fastermc_1 map file into Eschaton's icon. In Eschaton, expand the Maps (Read/Write only) folder. Find the "matg: Globals" folder, expand it, select "globals\globals." On the right, expand Reflexives -> Player Information -> Player Information 1 -> Floats and select "Speed Multiplier." On the right you will see that this value is "0." Let's change that to 3 and press Return/Enter to apply those changes.
9. In HaloMD, launch Halo by hitting "Start" button. Go to Multiplayer -> Internet (under Create Game) -> browse all the way down with the down-clicky arrow to select your fastermc_1 map. Select whatever gametype you want, and start the game. Congratulations, your mod is a success!
------
Now I will talk about build numbers. The build number is an integer that refers to the map's version and this largely deals with distributing your map. Each time a map changes for distribution, the build number should increase. A map with a higher build number is more recent. The build number is also incorporated in the map's filename on disk. Note this doesn't relate to human version numbers such as "1.0", "Alpha 1", "1.4b3", etc.
Like I said, build numbers are used for distributing maps to others. When you send a new version of a map to a person, or when you request for it to be submitted in the database, you should modify the build number. This way, you will never get version and CSS conflicts. To increase the build number, you simply have to use MDRenamer again with the base map being your own mod and increase the build number by 1.
-----
Now I need to talk about hosting a bit. If you create a mod and host a game, only people that you have sent the mod to will be able to see your game on the lobby. You can use this for "private" testing. If you want everyone to be able to see it, it needs to be on the mod database. To submit the mod onto the database, submit it in the
submissions forum
-----
Visit
this thread
for more information on modding with Eschaton, or the tutorials section, or search the forums, or ask a question on here for help.