I thought this would be a nice place to brag and/or debate about people's sigs. Here's what you'd post if you made one yourself: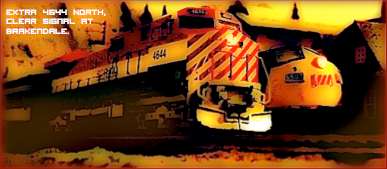 Name: "Extra 4644 North"
Programs used: Camera, train set, iPhoto, and Comic Life.
Comments: I've been testing out that engine. She's a BC Rail Dash-8CW that I just put a sound chip in. She runs (and sounds) great. I put her on the head of a VIA Rail extra train with a Rapido Steam Generator car behind her. Squamish, BC to Prince Rupert, BC. I also love my mom's new camera. O_o
Now your turn.
EDIT: Here's another.

Name: "Take the high road"
Programs used: Camera, train set, iPhoto, Comic Life
Comments: Both Broadway Limited blueline engines with sound. That's still on my layout which depicts the CP line from Squamish to Brakendale, BC, but this one tended to look like the praries. Looks cool either way.